*Dedicated to all those north Indians who visited their friends for pongal and left with a weird feeling inside * :D
Let's make it clear at the outset :
visiting a South Indian household is not like going over to your Pammi Aunty ; Bittu uncle or your chachi /mami / 'apna yaar' ka ghar .
If Sarvanan/Arun/Ganesh/Karthik/Karthikeyan/Murugan/Bala pats you on the back and says , "Aye vaa da .. come over to my house machi"
Or any mixture of Lakshmi and Priya ( cumon … LakshmiPriya ; Hjaripriya ; maniPriya ; KanthaPriya ; SriLakshmi ; PriyaDarshini ; DhanaLakshmi ) peer through their glasses and coyly ask you ,
"Vaangu pls . My amma is making Sakar pongal . You will like it very much "
You are in for a test of your character , discipline , sincerity , manners and your ability to stuff your "amit"ness in your mouth .
First lesson , you know how you usually walk up to your bed and sometimes just fall asleep with your shoes hanging by the side of the bed ?
Ok , not allowed . You will see a pile of shoes outside the house . Keep them there .
Your friend won't say anything . But he/she will do it themselves and then slowly walk in , very slowly .
And don't worry , nobody will steal them ( it will take time getting used to that )
Step two , you will probably be introduced to the grandmother first .
Bend at your waist and do a proper 'vankaam paathi' or just fall at her feet .
She'll scoop your face in her hands and talk something
in tamil , all the while smiling at you . Just nod and smile back and say "ama ama .. nalla irikae . Nandri paathi"
Then she'll wave her hand at the dinning table , DO NOT go there first . Let your friend lead you .
You'll be introduced to other family members next . All of them will be so nice and polite to you and shower you with such attention that you'll begin to feel suspicious .
( Remember how your friend's mum back home would shout at your friend first . But she'll throw accusing angry glances at you ?)
The dad will ask you about ,
"How is studies going ?" .Say good
"How are you liking Chennai ? " . Say good .
"How is everyone back home
?" .Say good .
Tell aunty , "Rangoli is very nice aunty" ( Before that , CHECK whether they made it that day or not )
BROWNIE POINT : Bow your head before the temple in the house . The paathi will LOVE you :D
Then when you are finally in your friend's room , you can breathe a sigh of relief .
But remember , not too loudly .
Yes , the very fact that people are not shouting from one room to another can be a BIT unnerving for a north Indian . But you'll get used to that .
Five mins. in your friend's room and you'll be called over to eat .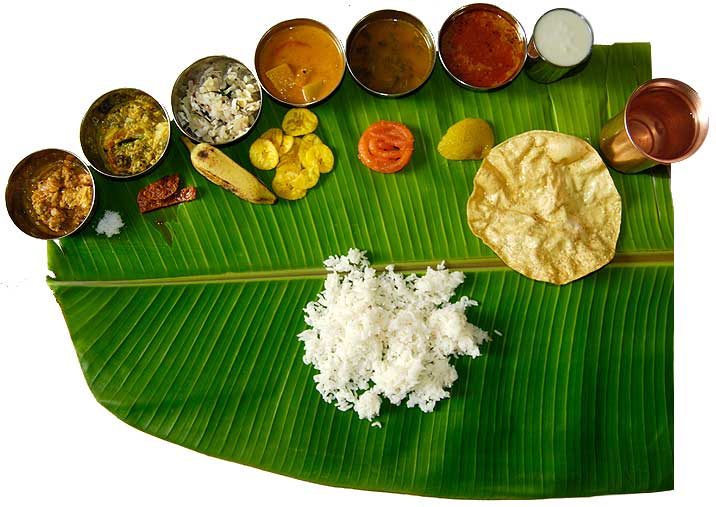 RULES OF EATING A MEAL :
1.Everyone will be staring at you and smiling . Don't feel creeped out .
2.Don't ask for a spoon , unless it's been kept . Everyone will go about as if India declared an emergency , and you'll feel guilty .
Plus , they'll give you a new spoon for every course from then on .
3.Let aunty or your friend serve you for the FIRST time . Make it clear that you DO not want their help . It will come handy later .
4.Mix whatever is given with the rice . Save rasam for the last and crush the 'aplam' ( yes , the thing that looks like 'paapad' ) over the rice .
5.The uncle/dad/grandfather will give you some advice about how to eat what . just follow it .
6.When you ask for a second helping , tell aunty to STOP when you see have your fill .
Trust me , feeding a guest is like showing affection in the household .
And with that much of affection , one might puke :D
7.Never praise a dish to the skies . It's automatically assumed that you have been starved of that delicacy since your childhood .
And they'll compensate for all those years during that one dinner :D
Once you survive the eating exercise , be happy .
You've just been accepted as a part of the household . The granny feels happy that her duty has been done .
And aunty feels happy that you haven't felt the 'lack' of anything !
And uncle feels awesome that he has taught you a few south Indian customs .
While going out , follow the entry procedures ( reverse order ) . Say "thanks" as many times as you can .
And keep the smile going . You have emerged a hero ! :-D